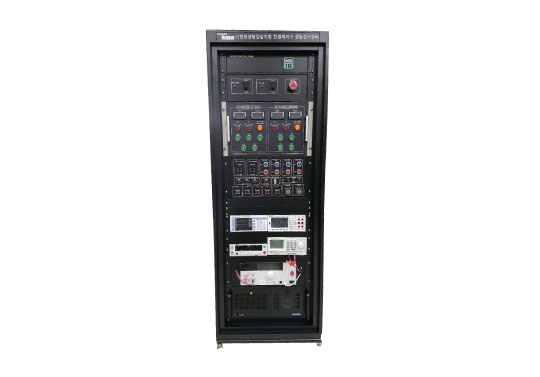 New CBRN Reconnaissance Vehicle Power Controller Inspection Equipment
Summary
It is a test equipment that measures the power converter that outputs the electric power (about 10KW) produced by the vehicle generator to 220VAC and 28VDC voltage. It is an equipment that can measure the generator drive part, load equipment, and various output values.
Customer
Hyundai Rotem Uiwang Research Center
Delivery Date
August 2019
Hardware
Validation function and use of air-cooled chiller (for power converter cooling)
17KW class generator drive part
Temperature sensor simulation and generator rotation speed monitoring and control
CAN communication read and control
Software
Equipped with CTS, our self-developed general-purpose inspection program
Inspection procedure can be written in Excel format
Built-in login function (reinforced security and accessibility)
Test history inquiry and transcript inquiry possible
Various tests can be processed in one program.
CAN data analysis available.